IMPLAN's HQ is nestled in the bucolic margins of Lake Norman and a mere stone's throw from Charlotte's city center—751 feet above sea level. We've all been hitting the refresh buttons on our screens to catch every change to the weather models as hurricane Florence slowly creeps toward our coast from seas which seem to have made it a banner week for tropical storms.
Active tropical storms as of 12 September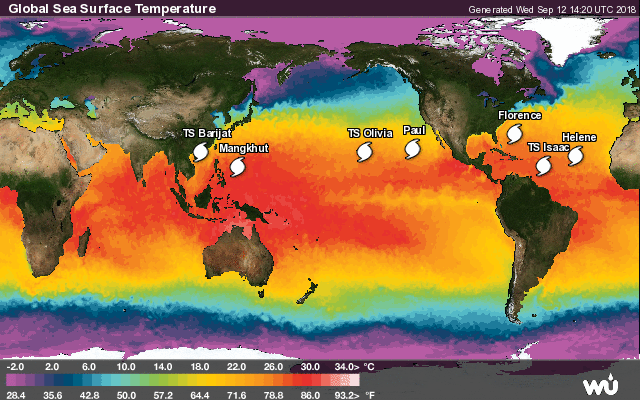 We're uncertain yet how Florence will affect things throughout what remains of the week here in Charlotte. So far we've welcomed back an evacuee from school, stocked up on bottled water, and reexamined the office closure plan. So, naturally, I'm justifying all of this distraction from the regularly-scheduled workload with this blog post.
Methodological Concerns in Estimating Economic Impacts of Storms
Underlying Assumptions of the Model
When it comes to figuring out what economic effects a storm might have, both meteorological and economic modeling share a cone of uncertainty. At first blush, the economic impacts of natural disasters appear positive—sometimes even very high. That an economic model would calculate a positive or beneficial economic impact as a result of a natural disaster is, of course, absurd. But such results aren't unexpected given the underlying assumptions of the model—no matter the model used.
Examining the results of tax incentive programs or a new increase in industry production are arguably the primary use case (if not the most frequent use case) for which economic modeling tools are employed. In these cases, the economic activity in question is totally new to an industry and its study area and seldom incur negative impacts within the scope of the study geography (whether in terms of opportunity costs or other endogenous factors).
The impacts of natural disaster recovery, however, never occur unaccompanied by significant economic costs to households and businesses in the affected area and beyond. And so, when modeling the impact of increased spending in an area on construction services, portable generators, window manufacturing, or retail food and beverage stores, the impacts reported by the model will be sizeable and in the black. The model won't know that significant negative impacts are also at play.
It follows that the best approach for modeling the comprehensive economic impact of a natural disaster is what's often referred to as a net analysis—an approach which the best economic impact analyses (regardless of use-case) include to some degree.
A Matter of Time
After the storm passes, how long does recovery take? How do we draw a line between the short-term and long-term impacts of a natural disaster? Adam Smith offers some guidance in his article "Forces of Nature: The Economic Impact of Natural Disaster" published earlier this year, as he writes:
So we asked a simple question earlier, "What results and trends can we expect when a natural disaster event occurs in a given region?" The quick answer we've uncovered from a sampling of research is that the overall economic impact is negligible. However, household incomes and home values take a dive, compounded with an uneven distribution of the population and increased poverty rate in the areas affected.

So, how well do the wounds heal over time? This is where the answer gets a little more cloudy.

A lot of debate centers on how to determine the effects of a natural disaster over a long time frame. The more time you incorporate into a study, the more variables you have to account for and the assumptions may get a little riskier. Thus, the study is difficult to accurately conduct. Plus, every disaster event is unique and in a different region. Some regions are better equipped with policy in place to aid recovery or substantial industry diversification that can withstand certain disaster events.
Smith goes on to summarize disaster-related studies which reached varying conclusions related to the type of disaster, the affected geographies, and includes some disaster-related damage assessment tools.
Looking back
Estimating the magnitude of what's to come is somewhat tricky because Florence will be only the third category 4 hurricane to cross our outer banks since Hazel in 1954 and Hugo in 1989. Looking into the historical storm data helps define the edges around an economic cone of uncertainty of what we've weathered here in North Carolina in the past.
North Carolina's top five most damaging hurricanes
| | | | |
| --- | --- | --- | --- |
| Storm Name | Date | Total National Damages ($) | Total NC Damages ($) |
| Diana (category 3) | 13 September 1984 | 159 million | 48.5 million |
| Connie (category 3) | 12 August 1955 | 808 million | 376 million |
| Hazel (category 4) | 15 October 1954 | 2.8 billion | 1.5 billion |
| Fran (category 3) | 5 September 1997 | 7.2 billion | 3.7 billion |
| Hugo (category 4) | 21 September 1989 | 18.5 billion | 14 billion |
Source: Weather.gov, numbers adjusted for inflation to 2018 equivalent values.
Part of the disparity in what past storms cost the nation, and our small part of it here in North Carolina, is that the economic profiles of both regions looked drastically different to Hazel and Hugo. As USA Today recently reported, there's just more today than has ever been before lying in storm paths. Accuweather's founder and president ventured an estimate on twitter yesterday of $30 billion in damages. CBS's Money Watch reported a more pessimistic figure of $170 billion in damages to the nearly 759,000 homes in Florence's way (according to real estate data provider CoreLogic).
Wrapping it up
Even though wading through the data and aftermath of natural disasters is admittedly dour (to put it mildly), there's tremendous value to future planners and recovery experts in having first-hand accounts in granular detail of what we prognosticate of any natural disaster and comparing that to what actually happened. It's this sort of examination of economic impacts in concert with environmental impacts and historical data that have shaped the weather models we rely on today to make the carefully measured decisions we've seen announced in the past few days to evacuate and plan ahead.
So, for now, it's back to clicking that refresh button on the weather maps every now and again and being as prepared as possible with one eye on the storm and another watching after our neighbors' welfare here across the state.
Author's note: I remember weathering the effects of the outer arms of the Perfect Storm of '91 and Andrew in '92 in the sort of scrappy New England coastal town whose residents had seen it all and feared nothing. Even those veterans of countless storm seasons prepared for every new warning with the sort of dedicated, reverent ceremony you'd expect to see reserved for high church rather than grow complacent. Any precautionary measure you take if you're reading this and living here in the Carolinas with me won't be wasted. Please be safe!