Across the country, the service industry has felt the consequences of the coronavirus more severely than most. Through the beginning of May, more than 8 million restaurant jobs were lost. While cities and regions of all sizes have felt the strain, social distancing and business restrictions have affected small businesses in towns reliant on tourism spending particularly harshly. One of these towns is Asheville, North Carolina. Asheville, a city located in the Blue Ridge Mountains of western North Carolina, is known for its beautiful mountain views, tourist attractions, and incredibly robust brewery scene.
According to IMPLAN data, the food service industry supports over 18,000 jobs, making it the largest employment sector in the Asheville MSA. When COVID-19 hit and businesses began closing up shop for indeterminate periods of time, it left many uncertain of how they could continue operating. Gathering restrictions and event cancellations posed a unique threat to the more than 100 food trucks that operate in and around Asheville.
Friday the 13th
At this point many are familiar with the timeline of the coronavirus containment procedures on a national scale, and the acceleration of precautions taken specifically during the month of March. President Trump addressed the nation in a publicly televised appearance on March 11th. The NBA announced a suspension of all games as the rest of the sports world followed suit with suspensions, postponements, and cancellations. Wall Street also reacted as oil prices plummeted and bear market territory approached.
Asheville Food Truck Entrepreneur Carter James recalled that week and the immediate impact it had on the business that he, his brother Kyle James, Erica "Shorty" Imhoff, and Cody Burchett own and operate—Bun Intended.
"I was keeping in touch with the other owners and was privy to the news about the coronavirus' effects on Seattle and California at the time. I still remember the day, March 13, which was a Friday. New Belgium informed us that they were shutting down and letting workers go home for safety. That was huge because they are a key partner and that brewery is an important location for our business."
Bun Intended began serving Thai-inspired street food in December 2016. The group brought together diverse backgrounds in Thai food, business management, and marketing and paired them with a passion for world travel, unique cuisine, and local farm-to-table foods to create their concept. The crew sets up shop outside of the New Belgium Brewery multiple days a week and sought out alternate locations immediately.
"We were pretty quickly forced to shut down our operations too when other locations started following suit by closing, reducing employees, and enacting restrictions. It all evolved and happened so quickly that we didn't have much of a choice," Carter James stated, "We were stuck having to play catch up in regards to fallback plans and locations to serve and so on. It was really tough."
Short-Term Protection
With more breweries per capita than any U.S. city, Asheville is Beer City. Breweries and food trucks have a symbiotic relationship and oftentimes rely on one another. Some breweries do not have full service kitchens, but are able to lengthen customer stays with offerings from food trucks. Food trucks are reliant on tourists at these locations because of the overwhelming amount of restaurants around Asheville.
Like many food service-based businesses, the pandemic left Bun Intended with no choice but to cease operations. In Asheville, the community jumped into action to provide resources to try and protect the local economy. According to Carter and Kyle James, local media outlets like the Asheville Citizen Times and the Buncombe County government played a huge role in keeping everyone aware of what options were available to affected businesses. Loan options were also a significant topic of discussion across the country, but presented obvious challenges. Ultimately, despite contributing to a large portion of the newly unemployed, only 8.1% of the $660B of Small Business Administration loans went to restaurants, hotels, and food service employers.
"(Restaurant owners) are experts of their craft and wouldn't expect anyone to be able to cook as they do, but conversely they were expected to be experts to be able to apply for this loan." Kyle James said of the process for applying for small business loans. The application itself was "meticulously tedious" and they were handicapped by business classifications that put small businesses like theirs in the same category as more sophisticated outfits with corporate attorneys better equipped to file loan applications. After a great deal of effort, they were unable to secure a loan.
Through that process they became aware of a loan program through Mountain Bizworks, a local non-profit focused on small business lending and assistance. Bun Intended was able to receive a low-interest loan within 3 days that allowed them to cover operating expenses and stay afloat through the end of that month. Without the loan, they were unsure that the business would continue, let alone be able to support their local suppliers.
Small Business, Big Economic Impact
There are countless businesses and industries across the country that shuttered as a result of the coronavirus, and the health of the economy was discussed nearly as much as public health concerns. Small businesses have been hit exceptionally hard, and their contribution to local economies is not inconsequential. Bun Intended focuses on buying from local producers as much as possible which makes their impact particularly important to their region.
In totality, Bun Intended supports more than 5 jobs, $162,076 in wages, $200,330 of GDP value, and $435,952 in production in their region. The impact of their economic contribution to their local economy can be quantified with their direct contributions using IMPLAN. Bun Intended produced $216,811 in output (or gross sales) in 2019. Based on direct economic values and intermediate expenditures, IMPLAN calculates the effect their business had within their supply chain and demonstrates the impacts in indirect and induced effects.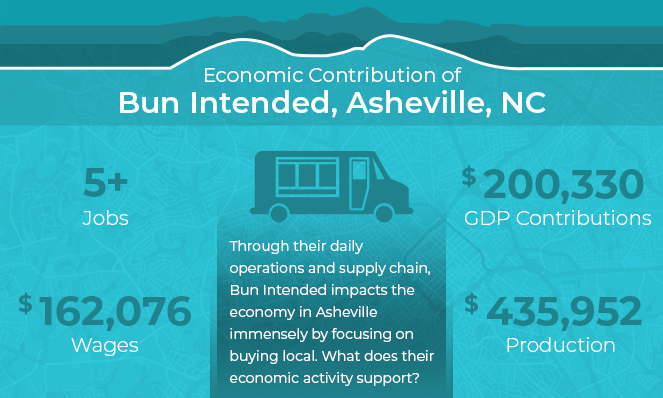 Indirect effects are the business to business purchases in the supply chain taking place in the region that stem from Bun Intended's purchases. Indirect labor income (wages) of $26,586 and $126,596 in indirect output (production) is supported within their supply chain. The most notable commodity purchases include food and food supplies, rent, utilities, advertising and marketing, and event fees. Induced effects are the values stemming from household spending of labor income. In other words, the induced effects are the impact of how the wages earned by their suppliers are then spent. Their operations support $30,033 in induced labor income and $92,545 in induced output.
Their commitment to buying local has also proven to be economically beneficial in spite of supply uncertainty created by COVID-19. While many larger suppliers experienced shortages, Bun Intended's reliance on local farmers has kept them from experiencing this problem while trying to kick start recovery in their community.
"We use as many locally sourced ingredients as possible," James stated, "The food chain has been disrupted so much, but local farmers have actually been able to keep up. Being hyper local has been a benefit to us."
Adapting to Advance
As evidenced by their economic impact, maintaining the business carried not only personal importance, but community benefit as well. In the aftermath of the wave of shutdowns, business operations have needed to change. Instead of setting up at festivals and waiting for people to come to them, the Bun Intended crew have taken the truck to people and set up in apartment complexes and business parks. Cleaning procedures have heightened, priorities have shifted, and creative problem-solving has become crucial. For Bun Intended, the 3-5 year business plan has been challenged, but the entire experience has not spoiled their affection for Asheville.
"We have so much love and appreciation for the city of Asheville," Kyle James said of their community, "The amount of love we've received from people who have only eaten at our truck once, people commenting and posting on social media, purchasing gift cards to use in the future—it gives us faith that we will come back if we can get through the next 3-6 months."
The response from local economic development organizations, businesses, and residents has been overwhelming and deepened their resolve and affection for their community. Not only do these businesses boost the local economy, small businesses create a culture and form the fabric of a community. The importance of preserving resident businesses is crucial to many facets of a locality.
"Small towns are built on eccentric and creative small businesses," Kyle James asserted, "Dunkin Donuts might come in to town and buy that up and employ the same people, but it will rob the small towns of their creativity and personality."
Just like anywhere else, pulling through the chaos brought on by COVID-19 is top priority for this Buncombe County business. Recent statistics indicate that food service industry unemployment is beginning to recover from the initial onslaught of job loss, however a full bounce-back remains uncertain and distant. For the Bun Intended crew, remaining optimistic is the key to success long-term.
"Keeping hopes up is the biggest thing - it's easy to get overwhelmed by it all. As long as the businesses can stay alive, everyone wants to get back to work, everyone wants to get back to doing what they love," Carter James continued, "Most restaurants barely have enough money to last 2 weeks. We work on such a small profit margin. That's why restaurants fail so frequently—lack of capital. This is a perfect storm for the restaurant industry. But I know Asheville and our industry will pull through."
Interested in what it takes to create an economic impact report? Check out our guide on crafting one of your own!
how Are You impacted?
Fill out the form below to gain insight into the economic impact of any disruption.