The concept of input-output analysis was theorized nearly a lifetime ago. But input-output modeling as we know it today has advanced in fits and spurts through an infancy that has lasted nearly 40 years. The latest advancement in technology and methodology is going to propel economic impact modeling into the future.
Why New, Why Now?
This advancement in modeling technology is the culmination of nearly 3 years of listening to and actively engaging with the economics science community, taking a long look in the mirror at legacy economic modeling applications, and employing the latest in computing power.
The application isn't the only thing that's new right now—read all about the latest IMPLAN Data to see what's changed in the economy since last year.
The architecture of the new platform is shaped around the needs of IMPLAN users which stem from the collaborative (and sometimes competitive) nature of the economies in which we live and work. It's the economic communities' creative uses of IMPLAN data and applications that has led us to incorporate more ways of looking at the data and impact results as well as a whole bunch of other enhanced features.
What's In It for Me?
Faster calculations than ever before
The analysis engine now relies on Amazon Web Services (AWS) to do all the computing in the cloud, expanding the volume of computing power to match the demand of your project. This cuts down on the wait time for complex calculations to complete (apologies to all the smokers and coffee drinkers out there who used older versions as an excuse to take a break).
Also, single-region models other than zip-code-based models are all pre-built. This means that in most cases you no longer have to wait for a model to build before exploring the underlying data or jumping right into impacts for the region. You can even select multiple regions at a time to explore simultaneously.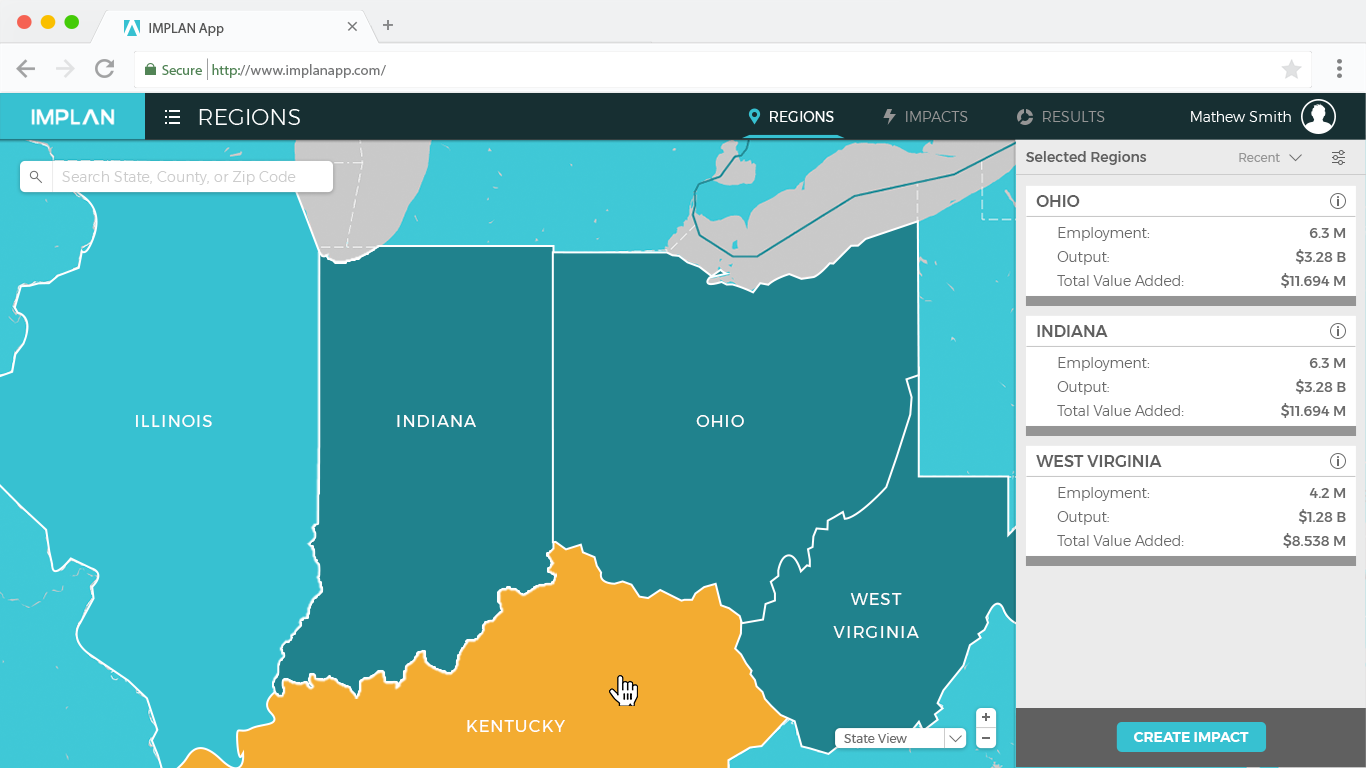 More fluid workflows
Jump into an analysis from wherever seems natural to you. Want to start by defining an impact without having to select a Region first? Go for it. In the new project-based workflow, you can start anywhere, duplicate Events in a snap or swap out Regions for Events you've already defined.
Multi-tab functionality
Sign in once and then spread your work out across as many tabs as you like so you can work on more than one analysis at the same time or compare results between projects.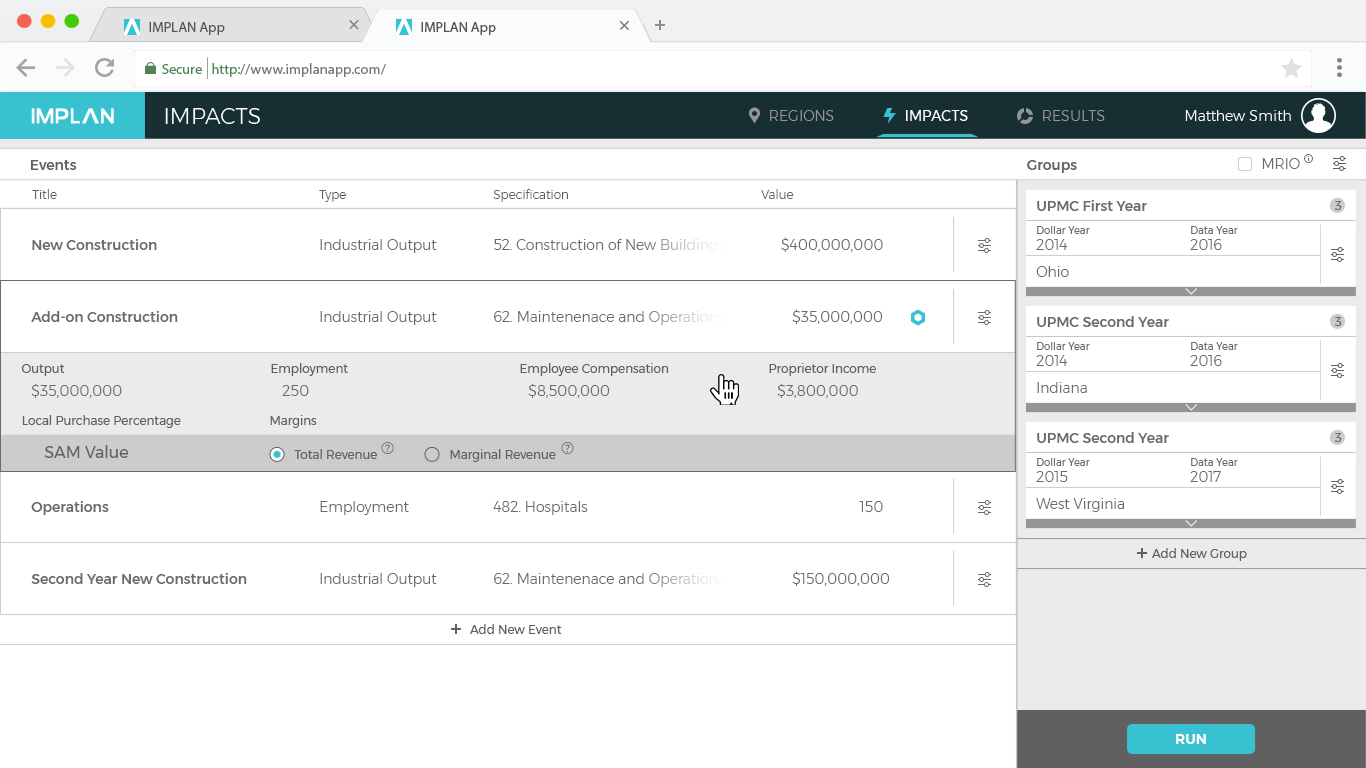 What Else Is New?
Events and Groups
The days of nesting events into activities, and scenarios (and having to re-run scenarios over and over again) are finally over. Now, simply match an event to a 'group' where you define the region, data year, and dollar year. This consolidates what once required three stages into one. Simply drag and drop an event into a group and you're ready to run an analysis.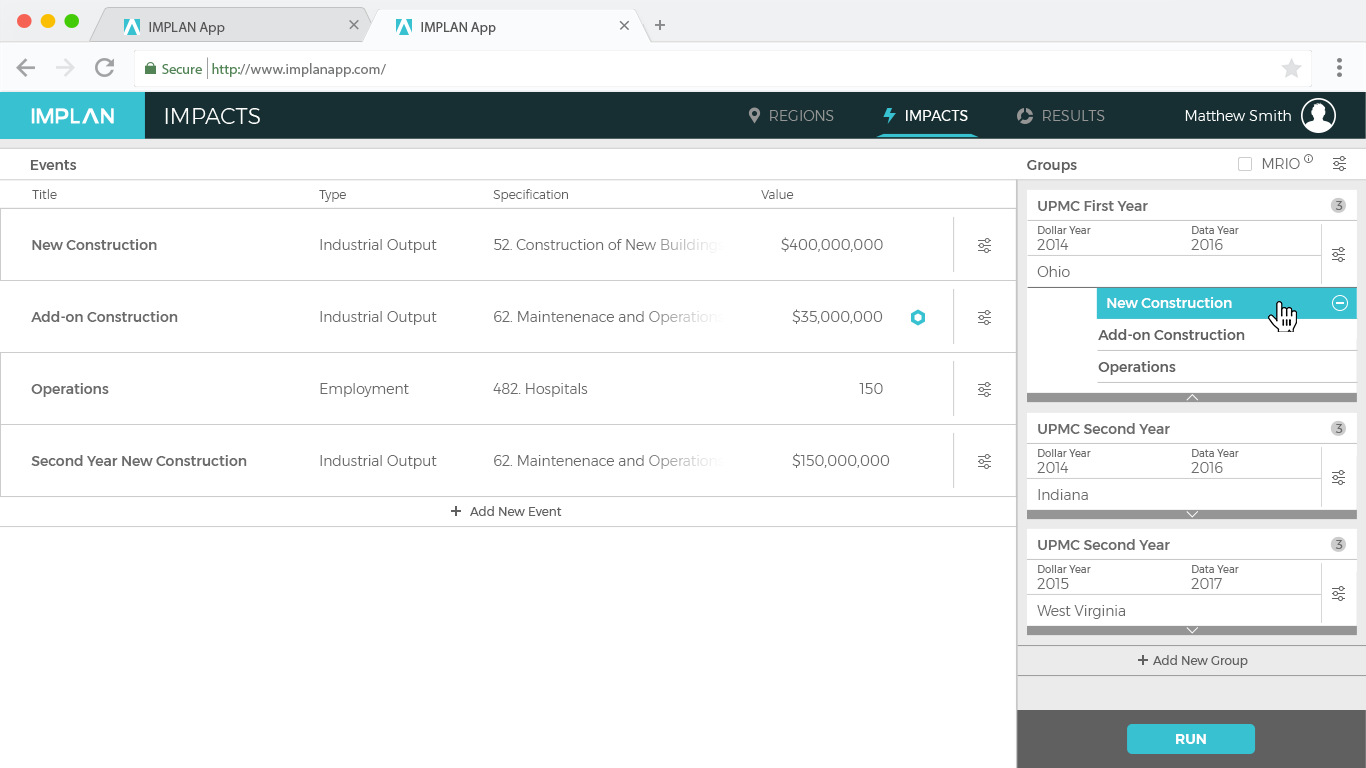 Improved SAM Construction
The full-detail Social Accounting Matrix (SAM) gives a complete picture of the flow of funds, both market and non-market, throughout the economy in a given year. Market flows occur between the producers of goods and services (both industrial and institutional) and the purchasers of those goods and services, both industrial and institutional (i.e., households, government, investment, and trade). This structural backbone of the data now includes more to explore.
Pro and Online SAMs:
Commuting is reported as a net flow.

Sub-national SAMs consolidate all commuting in the Domestic Trade account.
New IMPLAN SAMs:
Commuting is reported as gross flows. This means that you can see total in-commuting and out-commuting for state and county models.

Foreign commuting stays in the Foreign Trade account.
This change means that you'll enjoy greater accuracy (lower induced impacts, all things being equal) and find it easier to see the estimated commuting flows in both directions.
Also, some payments to government have been reclassified, e.g., rents and royalties are paid from Other Property Income (OPI) to government, rather than from Tax on Production and Imports (TOPI) to government, in the new IMPLAN. Such changes serve to align IMPLAN SAMs with National Income and Product Accounts (NIPAs) from the Bureau of Economic Analysis (BEA) to improve the quality of tax impact results.
MRIO everywhere
In previous versions of IMPLAN, the Multi-Regional Input-Output (MRIO) feature only enabled the ability to specify direct impact on one region per scenario. This feature allowed for multiple regions to be linked to the directly affected region to capture the effects the event occurring in the directly affected region would generate on the linked regions via trade and commuting. Any events defined in the model of the linked regions would be ignored. Those who relied on this analysis technique know how time-consuming the process could be—and sometimes avoided it altogether.
In the new IMPLAN, these limitations no longer exist. You can have as many directly affected regions as you'd like within an MRIO set-up. Once the regions and their direct events have been defined, simply checking the MRIO box will provide results of all the effects created within and across regions.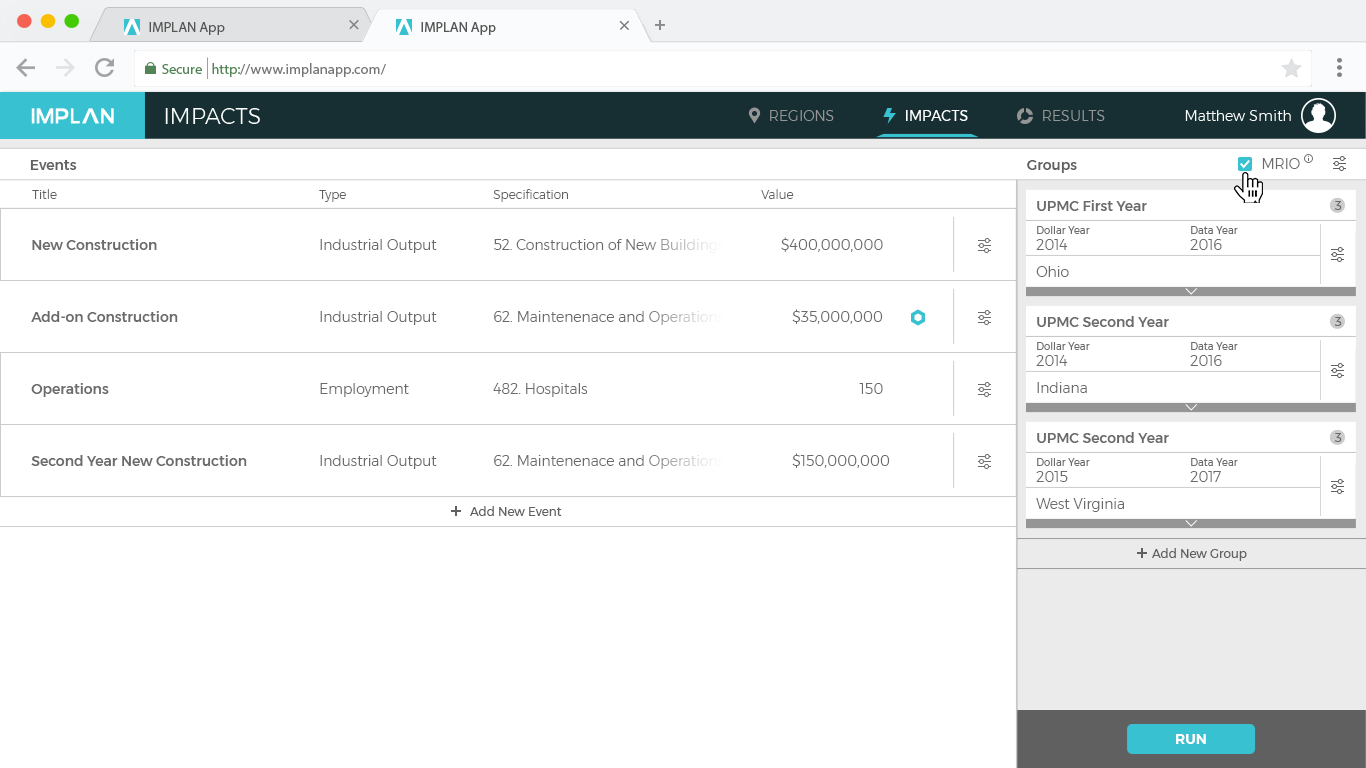 Wrapping It Up
There's a lot more to explore than there was time to cover in this article—like the fact that this new version will work on Macs and that one of the most important features of new IMPLAN is that it was built in such a way (modern, flexible, compartmentalized sections of code) that will greatly facilitate the addition of new data and features in the future (which was a major weakness of previous versions). If you're interested in learning more about the new application, schedule a personalized, guided tour of the new tool as soon as it comes out by submitting the form below.
Sign Up to see implan FOR YOURSELF!
Complete and submit the form below for more information on the tool.